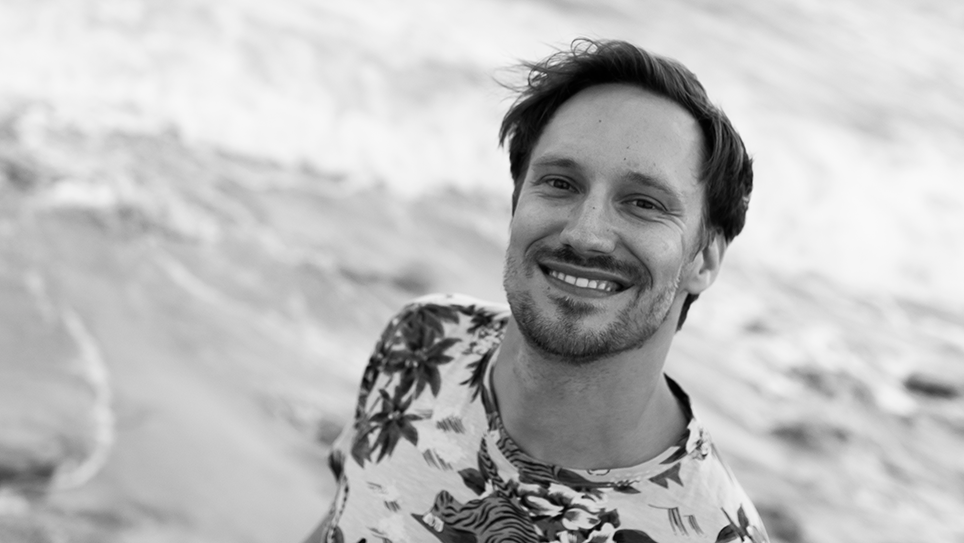 Dominic Thiel was born in 1989 in Stuttgart, Germany.
He studied Media Art / Film at the University of Arts and Design Karlsruhe
and works as a freelance cinematographer, director and media artist.
His experience as a cinematographer has a strong visual influence
on his directorial work in an effort to create an atmospherically immersive experience.
Cinematographer
2022 /// Outside is a cold place – poetry shortfilm / experimental – dir. Dominic Thiel
2021 /// Auf nach Almanya – TV documentary – dir. Gülsel Özkan
2020 /// Respectable / Slow Down / You're No Good (Die Toten Hosen) – label JKP – music videos – dir. David Bruchmann
2020 /// Asambeauty Weihnachten – TV commercial – dir. Red Velvet Chair
2020 /// Levity (Woomera) – music video – dir. Victor van Wetten
2020 /// Gait (Me and the Landlord) – music video – dir. Francesca Pichierri & Dominic Thiel
2019 /// What I've lost (Me and the Landlord) – music video – dir. Dominic Thiel
2019 /// Dankbar für alles (Erabi) – music video – dir. David Bruchmann
2019 /// Europabad 2019 – image video – dir. Erik Schöfer
2018 /// Achtvierzehn – short film – dir. Victor van Wetten
2018 /// Der Tod meiner Mutter – short film – dir. Gerrit Kuge
2018 /// Marktstand – image film – EnBW / Spreng & Sonntag
2017 /// post.exp – virtual reality 360° art installation – dir. Vanessa Bosch
2017 /// Herr Schöpken und das Licht der Welt – short film – dir. Till Gombert
2016 /// The days of violent roses – short film/ teaser – dir. Sophia Schiller
2016 /// Ein Streit – short film – dir. Aart Steinmann
2016 /// Deine Freude – short film – dir. Gerrit Kuge
2016 /// Isle of Man – video art installation – dir. Mona Altmann
2016 /// Global-is(ol)-ation – stereo 3D art installation – dir. Gülsel Özkan
2015 /// Only Living Rooms – stereo 3D short documentary – dir. Kilian Kretschmer
2015 /// Antigone – stereo 3d experimental short film – dir. Christina Vinke
2015 /// Kurz für immer bleiben (SDP) – music video – dir. Gerrit Kuge
2015 /// Agnosie (Hirscheffekt) – music video – dir. Gerrit Kuge
2015 /// Teseo – video projection for the opera Teseo – dir. Daniel Pfluger
2014 /// The black drummer who smiles – stereo 3D short documentary – dir. Jens Willms
2014 /// Warum soll sich das ändern (LOT) – label Chimperator Department – music video – dir. Gerrit Kuge
2014 /// Alles gut (Heisskalt) – label Chimperator Department – music video – dir. Gerrit Kuge
2013 /// Thales Alenia Space – image film – dir. Spreng & Sonntag
2013 /// Madam Erica (Hot Chick Banged) – music video – dir. Gerrit Kuge
2013 /// Dragspace – stereo 3D video installation – dir. Frederik Busch
2012 /// Ego (Ego Get Your Gun) – music video – dir. Gerrit Kuge
Director
2022 /// Outside is a cold place – poetry shortfilm / experimental – story Francesca Pichierri
2020 /// Gait (Me and the Landlord) – music video – dir. Francesca Pichierri & Dominic Thiel
2019 /// What I've lost (Me and the Landlord) – music video
2019 /// Das Grundgesetz – Bundesshop.TV Episode 1,2 & 3 – satiric short film series – dir. Carina Obrecht, Nina Eberle, Dominic Thiel & Victor van Wetten
2018 /// Steinzeit war gestern (orthodentist Dr. Konik) – cinema commercial – dir. Dominic Thiel & Victor van Wetten
2017 /// La Chef (tax consultant Peter Bürkle) – cinema commercial
2016 /// Das Pathos – poetic short film
2013 /// Sitcom – short film
2012 /// Out of the Sky – stereo 3D video art installation
2011 /// Valentinas kleine Welt – silent short film (16mm, B/W)
Teaching activity
2013 – 2018 /// Tutor – University of Arts and Design Karlsruhe – beginner and advanced courses in camerawork (HD, digital cinema and stereo 3d) & film lighting
2016 /// Tutor – Stereo 3D Film / Virtual Reality Workshop – Netherlands Film Academy Amsterdam
2015 /// Tutor – Stereo 3D Film Workshop – University Mittweida – Faculty Media Sciences
2014 /// Tutor – Transistor Stereoscopic 3D Fiction Workshop – Barrandov Filmstudios Prague – Ciant in cooperation with 3D Alliance Karlsruhe
2013 /// Tutor – Transistor Stereoscopic 3D Fiction Workshop – 3D Festival Beyond Karlsruhe – Ciant in cooperation with 3D Alliance Karlsruhe